News
08.05.2019
Participation in ECCMID-2019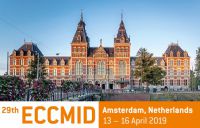 The 29th European Congress of Clinical Microbiology & Infectious Diseases (29th ECCMID-2019) was held in April 13-16, 2019, in Amsterdam (The Netherlands). This international scientific forum brought together over 12,000 experts from all over the world – researchers and specialists in various areas of medicine and healthcare, to present their latest findings to the overall scientific community, share their view on a specific matter, exchange opinions and experience.
The Congress format included lectures, interactive workshops, meet-the-expert sessions, with the possibility to ask questions related to various aspects of clinical microbiology and infectious pathologies.
Russia was widely represented in the Congress by experts of the leading research institutes and medical universities of the country, such as Institute of Antimicrobial Chemotherapy (Smolensk), National Research Center for Hematology (Moscow), Kashkin Research Institute of Medical Mycology (St. Petersburg), Central Research Institute of Epidemiology of Rospotrebnadzor (Moscow), Kulakov National Medical Research Center for Obstetrics, Gynecology and Perinatology (Moscow), Mechnikov North-West State Medical University (St. Petersburg), Saint Petersburg State Pediatric Medical University, Sechenov First Moscow State Medical University (Moscow), Samara State Medical University (Samara), representatives of Federation of Laboratory Medicine, among them members of Microbiology Committee, Council of Innovative and High Technology Microbiological Practices, and many others.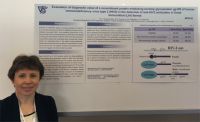 RPC Diagnostic Systems traditionally participates in the annual ECCMID congresses. In 2019, at the 29th ECCMID-2019 the company's specialists (N. V. Chepurchenko and N.V. Savelieva) presented two poster presentations of the results of collaborative studies – "Modification of a recombinant antigen results in improved diagnostic value for enzyme immunoassay detection of anti-hepatitis C antibodies" and "Evaluation of diagnostic value of a recombinant protein mimicking envelope glycoprotein gp105 of human immunodeficiency virus type 2 (HIV2) in the detection of anti-HIV2 antibodies in linear immunoblot (LIA) format". The key ideas of the aforementioned studies are published in the Congress proceedings.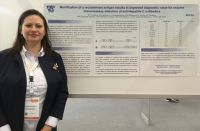 These materials can also be found on our website, sections "Conferences" and "Publications" –Hepatitis C и HIV infection.